Welcome to the enchanting Backwaters of Munroe, where the culinary journey begins with our exquisite seafood delicacy and our beloved brand ambassador, the "Green Chromide." Named after the state fish of Kerala, our homestay takes pride in celebrating this majestic creature. Locally known as Karimeen or Pearl Spot in the native Malayalam language, the Green Chromide shines as the true star of our region.
As you explore the culinary wonders of our island, you'll discover an array of delightful flavors, showcasing the bountiful treasures of our backwaters. In addition to the renowned Green Chromide, our island specialties encompass a delightful selection of prawns, crab, clam meat, red sapper, Bluespot mullet, Anchovies, and more. Each of these delectable treats is sourced fresh from the local waters, ensuring a truly authentic and mouthwatering experience.
Prepare yourself for an unforgettable gastronomic adventure as you savor the succulent seafood delights of the Backwaters of Munroe. From the delicate sweetness of the Green Chromide to the diverse flavors of our other local treasures, our culinary offerings will transport you to a world of unparalleled taste and freshness. Indulge in the symphony of flavors that our backwaters have to offer and immerse yourself in the essence of our coastal paradise.
Green Chromide(Karimeen) Fry:
Green chromide fry, also known as pearl spot fish fry, is a popular dish made with green chromide fish that are marinated in a blend of spices and then shallow-fried until slightly crispy and golden brown. The fish is known for its delicate and tender flesh, which makes it perfect for frying. Green chromide fry can be served as an appetizer or as a side dish, accompanied by steamed rice or Indian bread.
*Timings: 1:00 PM and 2:00 PM(Lunch) & 7:30PM to 8:30 PM(Dinner)
*Prior order required.
Green Chromide(Karimeen) Pollichadu:
Green Chromide pollichadu is a popular Kerala-style dish made with green chromide fish. The fish is marinated in a flavorful blend of spices, including red chili powder, turmeric, pepper and coconut oil which infuses it with fresh aromatic taste. After marinating, the fish is wrapped in a banana leaf and cooked to perfection, either by grilling or pan-frying. This cooking method imparts a unique and subtle smoky flavor to the fish. The result is a moist and succulent fish with a delightful combination of spices. Green Chromide pollichadu is often served as a main course accompanied by rice and traditional Kerala side dishes, creating a delicious and satisfying meal.
*Timings: 1:00 PM and 2:00 PM)Lunch & 7:30PM to 8:30 PM(Dinner)
*Prior order required.
Kerala Meals:
Vegetarian Kerala meals of the backwaters of Munroe Island are a delightful culinary experience that showcases the unique flavors of the region. These meals typically consist of a variety of dishes, including rice, lentils, vegetables, and coconut-based gravies. The use of locally sourced ingredients and traditional spices like turmeric, black pepper, and mustard seeds adds an authentic touch to the cuisine. The backwaters of Munroe Island offer a serene backdrop where you can savor these delicious and wholesome vegetarian meals, immersing yourself in the rich cultural and gastronomic heritage of Kerala.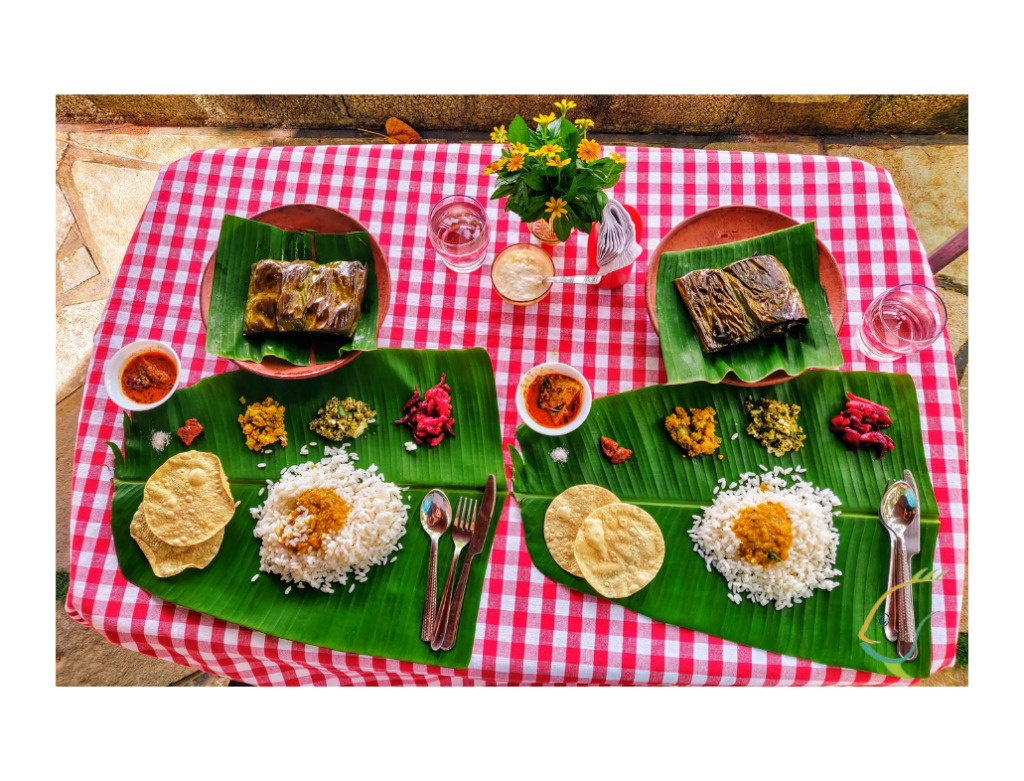 *Timings: 1:00 PM and 2:00 PM(Lunch)
* Prior order required